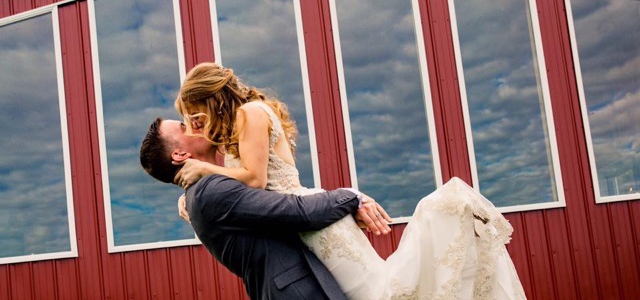 Tying the Knot! Your Wedding Day, Your Way!
February is the month of romance, boasting both Valentine's Day and National Wedding Month. When you think of the most popular month for weddings, February likely does not come to mind, and you'd be right. Nationwide the months of June, August and September take the top three spots for the most wedding ceremonies performed, with February coming in third from the bottom. So why would the National Association of Bridal Consultants name February as National Wedding Month? You may be surprised!
By far, more wedding proposals take place over Christmas and New Year's than at any other time of the year. With so many newly engaged couples, there is bound to be a surge in wedding planning, and it takes place in-you guessed it-February. Perhaps, finally recovering from the hustle and bustle of the holidays, couples begin wedding planning in earnest; making inquiries, booking venues, and arranging for flowers and entertainment. So, while it's not the most popular time to get married, lots of planning starts this month. It is the rise in activity that has earned February the distinction of National Wedding Month. There is no denying the romance factor in February. Valentine's Day is the king of romantic holidays and that alone makes us think of engagements and weddings. Since it's known as the month of romance on the calendar, and with over 2.4 million couples marrying in the U.S. every year, it seems fitting to give weddings and wedding planning some special attention in February.
The TLC Network named Page County the #2 Beautiful Wedding locale in the United States. Besides the wonderful array of venues and the breathtaking scenic views and backdrops, the cost of a wedding in Luray-Page County is also a powerful motivator to hold a wedding here. In 2017, in the Washington DC metro area, the average cost of a wedding for 150 guests was approximately $44,000. While exact comparisons are difficult and travel costs should be factored in, a storybook wedding in Page County can easily be less than half that cost.
While the ceremony and celebration are the most memorable parts of a wedding, if you want it to be legal, the most important part is the signing of the marriage license. This document legally binds the two of you. Obtaining a marriage license, and subsequently a marriage certificate, is a multistep process. Before you apply for a marriage license, you will need to know where and when you'll be married. In order to obtain your marriage license, you and your partner must go to the Virginia Circuit Court Clerk. It doesn't matter where in Virginia you decide to get married, you can go to any circuit court for your license. The license fee is $30 and is valid for 60 days from the day of issue. You will need valid ID, social security numbers and the full birth name of both sets of parents.
Page County offers a plethora of choices to fit every wedding style and budget. Our venues are extraordinarily diverse. Couples can choose to get married outdoors on a farm or at a vineyard, with stunning views of the surrounding mountain ranges or the Shenandoah River. For those who prefer an indoor event, choices abound, from country chic, to understated, to elegant. For a truly unique experience, how about saying "I do" underground in the Luray Caverns. Whether you choose a simple elopement or grand wedding, Page County has the perfect setting to make your big day truly special for you and your partner.
After the all-important venue is booked, its on to the rest of the plans for the big day! All those little things make a wedding day special. Our local wedding community is here to help you make your wedding day perfect and unique. Whether it's designing the perfect cake, picking out your favorite photography package, or finding transportation for your guests to and from the reception, our vendors will help your wedding dreams come true. The Luray-Page County Chamber of Commerce's Wedding Webpage is a wonderful resource as you plan for your big day. Here you will find all the wedding information you need, along with links, rounded up in one place. It is wedding planning made easy!
As the world-renowned tourism and travel slogan states, "Virginia is for Lovers." A Virginia wedding trend features the statewide tradition known as the "Love Letters." Thanks to the slogan, there are multiple installations of 6-foot-tall letters spelling out "LOVE" all over the state. Due to their popularity, you can even have your own set of "Love Letters" set up at your Virginia wedding. For a fee, letters can be ordered from the Virginia Tourism Corporation staff, who will "Bring Love to Your Wedding" by delivering, setting up and braking down the letters on your wedding day. (Just make sure you get approval from your venue.)
Don't forget to plan for the days leading up to your wedding. Turn your wedding day into an extended event by inviting your bridal parties, family and friends to arrive a day or two before the big day. This allows downtime before the ceremony and reception to relax, unwind and enjoy a few local attractions, along with our wonderful local restaurants, vineyards, brewery and distilleries. Guests will thank you for thinking of them when you provide lodging information for cabins, bed & breakfasts, motels & inns and campgrounds on your personized wedding webpage.
Speaking of love and romance brings us to February 14th, when candy, flowers and gifts are exchanged between loved ones, all in the name of St. Valentine. The history of Valentine's Day and the story of its patron saint is shrouded in mystery. We do know that February has long been celebrated as a month of romance and that Valentine's Day contains vestiges of both Christian and ancient Roman tradition. A popular account of St. Valentine of Rome states that he was imprisoned for performing weddings for soldiers who were forbidden to marry. Valentine greetings were popular as far back as the middle ages, although written Valentine's didn't begin to appear until after 1400. The oldest know valentine still in existence today was a poem written in 1415.
February is Valentine Month at Shadow Mountain Escape, as love is celebrated with a complimentary Red Velvet cake (by request) delivered to your cabin. Winter Delight Packages, with a Winterfest theme, takes place every Friday during the month of February. Guests are invited to bring a blanket, sit by the fire and enjoy hot mulled wine in the Stone Courtyard. In case of inclement weather, soft music and romantic seating will be provided in the Gothic Tower. The Healing Oasis & Bella Donna Skincare continues the month-long celebration of love by offering specials on facials and massages. Bring your loved one and enjoy a discounted rate on this sweetheart of a deal. February 14th-16th, Fort Valley Ranch is celebrating the holiday by offering a Valentine Couple Special featuring a 90 minute horseback ride that includes a campfire, s'mores and hot chocolate. On Friday, February 14th, Wisteria Farm & Vineyard is celebrating Valentine's Day with a chocolate fondue. For a $15 fee, guests will receive a glass of wine and can indulge in a plate of goodies for dipping. Bring that special someone to sit by the fireplace and enjoy this delectable treat. (Reservations required.) The Mimslyn Inn celebrates Valentine Weekend with two special events. On Friday, February 14th, a dinner for 2, includes a bottle of wine per couple, a cash bar and live music. On Saturday, February 15th, a dinner buffet with cabaret seating is scheduled with a live performance. Room packages are also available each night that include dinner for 2. Cooter's place in the Valley is offering a Valentine's evening Dinner and Dance with live music from Cooter's Garage Band.
Saturday, February 22nd, celebrate Mardi Gras in downtown Luray. Shop and dine, collecting beads along the way. Decorate your own mask with local artists, enjoy special treats, signature drinks and exclusive discounts, and enter your name to win a King Cake. Also, on Saturday, February 22nd, Stephanie Nakasian, the Renaissance Woman of Jazz will take to the stage at Performing Arts Luray. Her performance will include Jazz and Broadway music. On Friday, February 28th, Downtown Studios is having its monthly Luray Downtown Dance Party. Come as you are and enjoy an hour of dance instruction, followed by open practice time. (No partner or experience needed.) For a schedule of local events taking place in February visit on our Community Calendar.
Whether you are planning a wedding, planning a romantic Valentine's Day, looking for Mardi Gras fun, interested in listening to a wonderful night of jazz or learning some new dance moves, we've got you covered in Page County!