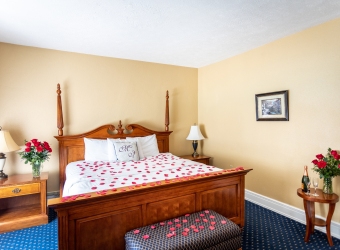 Romantic Escape: Valentine's Day and Shenandoah Valley Views
Think of February and you'll likely think of Valentine's Day — a day dedicated to love, and a celebration of all its many forms.
There's no better place to commemorate love than the state that's for lovers, and no more beautiful a place to celebrate Valentine's Day than the Shenandoah Valley. This year, follow Cupid's arrows to Luray and Page County to take your love and relationship to the next level by embarking on a Valentine's Day getaway.
Whether you're longing for fresh-air adventures, scenic solitude, or a cozy cabin to cuddle up, Luray and Page County offer mountain views and Valley ventures for everyone — a romantic refuge for sweethearts, a "Galentine's Day" destination for friends, or a relaxing retreat for families.
COZY CABINS AND ROMANTIC ROOMS
In Virginia's Cabin Capital, countryside scenery, fresh fare, and crisp air abound in February and all year long. With more than 400 cabins, as well as a wide range of hotels, motels, and inns, bed and breakfasts, and country homes, Luray and Page County offer romantic rooms and rustic retreats on any budget to celebrate the one you love.
Choose from secluded hideaways along the storied Shenandoah River, Brookside log-look cabins near Shenandoah National Park, lodging in the park, and historic retreats, like the 1850's Massanutten Springs and 1947 Rock Tavern retreats. Or savor the hospitality and history of B&Bs like the South Court Inn, Mayenview Bed and Breakfast, or the Grotto Vino.
Curl up next to a roaring fireplace with your sweetheart after a late-night dip in a relaxing hot tub beneath starry skies. Make your romantic getaway extra special with a couples massage in your cabin or room. Or call ahead for pre-arranged surprises like balloons, flowers, chocolates, or champagne awaiting the one you love upon your arrival.
Reserve a romantic room at Luray's historic Mimslyn Inn during its annual Valentine's Day weekend celebration. Special packages include guest room accommodations and dinner for two on Friday, Feb. 12, or Saturday, Feb. 13, followed by live music and dinner on Valentine's Day. The special festivities, coupled with the inn's gracious atmosphere and opulent aesthetics, will help ensure a Valentine's Day your sweetheart won't forget.
Celebrate this year's Valentine's Day with the littlest ones you love the most during a Valley retreat with family. Connect with your kids and other loved ones in miles of solitude and escape wintertime blues with a love-themed weekend. Bundle up around a backyard fire pit with campfire love stories and pink-marshmallow s'mores. Gather together around the kitchen table to craft construction-paper hearts and handmade Valentines. Or stop by one of Luray's indoor farmers markets at the Willow Grove Farm Market, Page Co-Op Farm Bureau, or Massanutten Country Corner for baking supplies to take back to your cabin to make Valentine's Day treats — some to share the love with others and some to keep and eat.
FINE DINING AND WINE
Savor local flavors and upscale dining by candlelight with your Valentine. Reserve your spot at Moonshadows Restaurant in Downtown Luray on Saturday, Feb. 13, or Sunday, Feb. 14, to choose from a special Valentine's menu, as well as a a rustic blend of international cuisine featured on a winter menu. Make a Valentine's Day reservation at the Mimslyn Inn's Circa '31 Dining Room for a romantic dinner for two and live music by Shenandoah Valley singer-songwriter Robbie Limon.

Call ahead for carryout from a large selection of Page County restaurants and eateries to take back to your room or cabin. Or head to a local market to gather the ingredients for a home-cooked meal in your cabin home-away-from-home. Show your love by surprising your sweetheart with their favorite dinner, or share the love and try a new recipe you make together.

Cheers to your love with local spirits and a heartfelt toast to your sweetheart. Choose from vineyards, wineshops, and distilleries, with options for on-site tastings or bottles to go. Celebrate Valentine's Day with a bottle of fine red or white from Wisteria Farm and Vineyard or Castle Vineyards, or discover a new favorite at The Valley Cork in Downtown Luray.

Raise your glasses with farm-to-keg craft beer by the pint or flight at the Hawksbill Brewing Co. Grab a growler to gift to the beer-lover in your life. Or give the gift — and experience — of an "age your own" barrel kit from the River Hill Distillery or Copper Fox Distillery.

While you're out, find the perfect Valentine's Day gift or souvenir from your romantic getaway at a local shop. From jewelry, gifts, and crafts, to second-hand finds and antiques, to outdoor equipment to help you enjoy any season in Luray and Page County, our shops and merchants offer a variety of one-of-a-kind gifts, unique finds, and handmade keepsakes.
FRESH-AIR OUTINGS AND VALLEY ADVENTURES
Take a romantic stroll with the one you love in the heart of Downtown Luray along the Luray-Hawksbill Greenway. Walk hand-in-hand along the 3.3-mile walking trail, or sit side-by-side and take in the scenes of the Hawksbill Creek that the trail winds alongside. Explore more Luray parks, or Page County's other small towns — Stanley and Shenandoah — with walks down Main Street, winter picnics, and afternoon drives.
Put your head — and heart — in the clouds in Shenandoah National Park. Take a hike on one of dozens of trails totaling 500 miles, including 101 miles of the Appalachian Trail. Or from the warmth of your vehicle, "ride the sky" during a romantic rendezvous along Skyline Drive, a 105-mile National Scenic Byway that traverses through Shenandoah National Park and the Blue Ridge Mountains.

Outdoor enthusiasts can take on the slopes and take in snowy scenes at Massanutten Resort, or embark on other outdoor adventures, including ATV excursions and horseback riding. Celebrate your love for each other and for the Great Outdoors at Fort Valley Ranch on Saturday, Feb. 6, or Sunday, Feb. 14, during a special Valentine's Sweets and Treats Ride. Or strengthen your bond with a ropes course challenge, let your love soar as you fly through the trees on a zipline adventure, or challenge your combined skills as a couple by solving an Escape Room mystery.
Commemorate your Valentine's Day getaway in the state that's for lovers with a keepsake photo in front of our oversized LOVEWork statue on the grounds of Luray Caverns (be sure to share them with us through #visitluraypageva and #LoveVa).
The Shenandoah Valley isn't only an ideal place to celebrate Valentine's Day, but a perfect place to say "I do," "I still do," or "will you?" during a wedding weekend, vowel renewal ceremony, or proposal.
Walk down the aisle amid panoramic scenery, or get down on one knee against a backdrop of the Blue Ridge and Massanutten mountains. Ranked by TLC (The Learning Channel) as the nation's No. 2 wedding destination, Luray and Page County serve as a picture-perfect place to celebrate "forever" together, with lots of local vendors and venues.
Whether it's a Valentine's Day getaway, an engagement celebration, the place you say "I do," or a place you say "I love you," there's no better place to commemorate love than the state that's for lovers — and no setting in Virginia offers more beautiful views to profess your love than Luray and Page County.