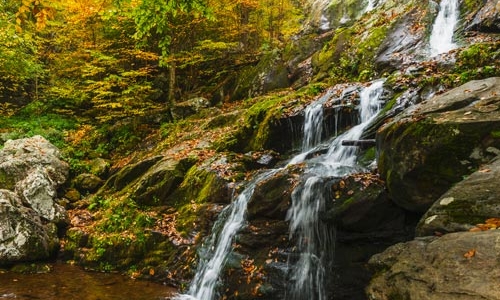 October is one of the best times to visit Luray and Page County! If you've been looking forward to the fall, comfy sweaters, the leaves changing color, and a crispness to the air. If you feel a desire to have a bonfire, savor some homemade apple butter, or hike through a canopy of multi-colored beauty, you have to make plans to visit the Page Valley!
From our annual Heritage Festival on Columbus Day Weekend to the Town of Luray's Halloween Celebration, there's something to keep everyone in your family occupied next month. Come enjoy the outdoors by kayaking up the Shenandoah River and seeing the beauty of the season from a whole new perspective. Celebrate Virginia Wine Month at our two local wineries, have our tours drive you through Page County and the surrounding areas for a sample, or drive the Blue Ridge Whisky Wine Loop yourself and decide where to go, what to see, and when to stop on your own time. Spend the evenings enjoying live music or taking in the acting talents of our locals at either of Luray's community theaters. Shop our boutique stores along Main Street and find something new for your wardrobe or get a jump on Christmas shopping with locally crafted gifts for your friends and family. Coming for a wedding? Celebrate the newlyweds, then immerse yourself in the local activities and truly enjoy your weekend in Luray and Page County.
The Heritage Festival is a personal favorite of mine. Two days of literally savoring and celebrating fall in all of its glory surrounded by local artisans, demonstrations, and home cooking, I mean, what can be better than that? Whether you prefer to watch the blacksmiths demonstrate and sell their wares, feast upon the down-home southern cooking of local organizations as they get in one big last fundraiser before the winter. My family and I love to attend and walk through the barns picking up knick-knacks for birthdays and thinking of you gifts and stocking stuffers for family and friends. I never go home emptyhanded and I always seem to find a one-of-a-kind pair of earrings for my sister or a handmade piece from the local woodworker for my father's collection. Even if my parents or I end up working a booth for part of the time, my mom and I always find time to wander around and say hi to our friends and neighbors as they support the charity/organization of their choice. My dad on the other hand, favors the antique tractors that are brought for show. They line them up around the Luray Rotarian booth and the owners or their kids take turns driving them around the grounds throughout both days so attendees can see them in action. And, for families, there's nothing better for the kids than barrel train rides through all the hubbub. Tuck the kids into the seat and stand back as they bump and jostle over potholes and through the milling crowds; it's a wonderful way to keep them entertained and let them see and feel a part of it all. From the smell of spicy apple butter being cooked on-site by the Page County 4-H club to the feel of fresh clay on your hands from working with the Luray Pottery Lady on her wheel to the demonstrations by the Steam & Gas Engine Show, there is always something to see, do, and experience anew, whether you are a local or a visitor to the area. I always find myself near the kettle corn after they've just finished popping a batch and by the chicken and dumplings for lunch, but no matter what stirs your fancy, there is food and entertainment for everyone!
At the opposite end of the month is Halloween and if Halloween is your favorite holiday of the year, book your stay at Yogi Bear's Jellystone Resort. The staff go all out for their Halloween themed weekends with pumpkin painting contests, wagon rides, trick-or-treating amongst the campsites, and more. Make sure you take some time to walk through their Haunted Pavilion and bring a fright or two with you by decorating your campsite. Grab your costume, extra decorations, and get ready to enjoy a Spooktacular weekend in the valley.
Need some inspiration? Check out the town's go-to place for everything Halloween – Virginia Gift Shop. Located right along East Main Street, the owner's favorite holiday is Halloween and she goes all out for the occasion with everything you and your family could need to decorate your site and you can even grab a mask for a last-minute costume.
Looking for something in the middle? Leaf peeping is a tourist favorite. The colors are different every year and they always choose to show themselves at different times, locations, and ways. But, with the way the leaves have been going this September, October is going to be a beautiful month for the leaves! We're already seeing some color and watching the leaves as they make their magical dance to the ground, so we know that the mountain is going to be popping with colors in the next few weeks. In the valley, we typically estimate that peak weekend (the weekend when the greatest amount of leaves are at their peak of the turn cycle, before they fall to the ground) to be toward the end of October, but it's a very difficult thing to predict.
Our staff's favorite thing is to keep tabs of what is happening on the mountain through Shenandoah National Park's Fall Color Reports. These are weekly reports that they post online about the colors and includes access to their Mountain View webcam. If you live close by and are considering a day-trip to the area, we highly recommend following the report online at www.nps.gov/shen/planyourvisit/fall-color.htm to ensure you get to see, what we believe to be, one of the best views in Virginia.
No matter what you're looking for in a day trip, weekend getaway, or week-long vacation, we have it in Luray-Page. Check out our monthly events calendar for October 2017 and let us help you get started!
If you have any questions or are looking for additional information on planning your trip, our Chamber & Tourism Associates are available 7 days a week with information on places to stay and personal recommendations for dinner, adventures, and more. Contact the Luray-Page County Chamber of Commerce & Visitors Center at (540) 743-3915 or info@luraypage.com. Don't want to have to search out our monthly calendars? Sign up for our monthly visitors' calendar with katie.long@luraypage.com. We can't wait to see you in the valley!