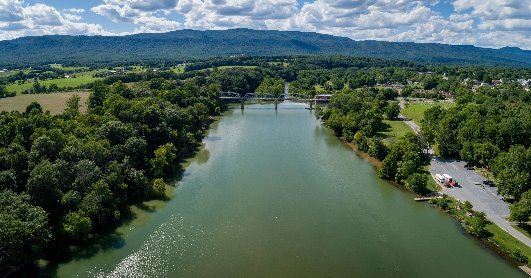 How to Plan a Trip Like a Boss
January and the start of a new year is the perfect time to plan your next vacation. With the hectic holiday season over and cold blustery days keeping outdoor activities to a minimum, folks tend to have more downtime compared to other times of the year. This extra time allows for relaxed, stress free planning of daytrips, long weekends and family vacations scheduled for the months ahead. Besides all the fun of planning your next getaway, you'll gain the added boost of having warm weather fun to look forward to, as the wind howls outside your window.
With so many fun and interesting things to see and do in Page County and the Shenandoah Valley, you'll be thankful for the time the slower pace of January offers for planning your next trip to our beautiful neck of the woods. Vacationers can visit breweries, vineyards, distilleries and restaurants while having the option of recreational activities like hiking, canoeing, kayaking, tubing, swimming, horseback riding, zip lining, ATV riding, golfing and visiting Luray Caverns Shenandoah Caverns, Shenandoah National Park and the Shenandoah River. Visitors looking for an authentic experience that is suitable for all ages will find all their vacation needs fulfilled in Luray-Page County, in the Shenandoah Valley. There is no better escape, where adventure waits around every corner!
The first step when tackling vacation planning is to research every part of your trip. There's more to plan than where to stay and things to do. If you really want an unforgettable experience, you'll want to find things to do that are off the beaten path, the best photography spots and the locals' favorite places to grab a bite to eat or favorite places to just hang out. There are planning resources and tools that will make planning your trip fun and stress free.
Here are a few tools travel planners can use to discover favorite coffee shops, where locals love to eat, and places to slow down, take in the views and have some fun.
Instagram
Go on a follow spree
Save your favorite images using Instagram's "Save This Post" feature
Create different albums for photography inspiration, dining, and must-see attractions and things to do.
Get social
If you have questions, don't hesitate to leave comments on those accounts' photos or stories.
Pinterest
Use Pinterest as a search engine
Use keywords recommendations to find specific travel guides and articles.
Narrow down your search results by pins or boards to get more targeted information.
Use Pinterest as an information repository
Create your own board to keep all the pins and articles organized.
Download the "Pinterest Save Button" Chrome Extension to pin to save any articles as you browse the internet.
Follow boards that focus on the destination.
Facebook
Like, like, like
Like Facebook pages of destinations, attractions, restaurants and other places that you plan on visiting. Each time a post is made to a page, you will be updated with new information and scheduled events.
For more targeted information comment or ask away. Fellow followers and page administrators are happy to pass on their knowledge and love for the location or attraction.
Tripadvisor
Browse forum archives
You will find other travelers asking similar questions so this way you can get an answer on the spot.
This is an active and collaborative community so it's worth posting your questions on their forum.
Travel Blogs
Browse relevant destination articles
Once you have completed your research and have everything in place, it is time to organize your travel plans. You want to make the most of your vacation time and laying out all the activities and places you want to visit using organization tools can really make a difference.
Two fun planning tools are Trello and Google Maps. Trello is a free productivity tool that can be used to keep boards and lists that come in handy when putting all your travel information in one place and safely stored in the cloud for easy access anywhere, anytime. You can create a schedule board as well as lists for "Places to Eat," "Accommodations," "Attractions," and any other vacation essentials. With Google Maps you can save places that you want to visit with a flag or star. You can create different lists for restaurants, cafés, sightseeing, etc. Make sure to save your map offline in case you don't have internet service while on the go.
Happy travel planning! The Luray-Page County Chamber of Commerce & Visitor Center looks forward to welcoming you to Page County and the Shenandoah Valley!