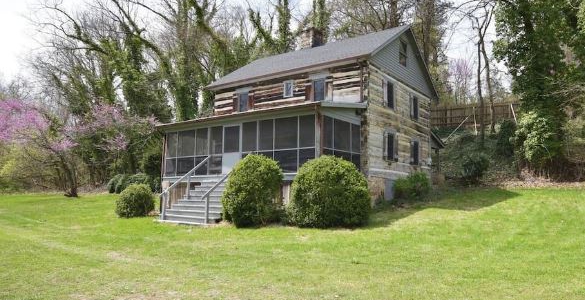 From peaceful solitude to high adventure, there's something for everyone in Virginia's Cabin Capital
Sometimes doing nothing can feel like everything.
In Virginia's Cabin Capital, "nothing" means kicking back by cozy campfires, marveling at starry skies from a bubbling outdoor hot tub, relishing morning coffee with sweeping front-porch views, and connecting with the ones who matter most to you.
Luray and Page County in the Shenandoah Valley offer a peaceful pace and wide open space to savor the simple things in life.
With the seasons' warm days and lush greenery, spring and summer serve as a perfect time of year for a Valley vacation or mountain retreat. Choose from more than 400 vacation cabin rentals in Luray and Page County — from cozy mountain hideaways, to rustic river retreats, to large and lavish estates.
Whether it's a weekend getaway or a weeklong stay, awake to panoramic Valley views any day of the year when you're here. Marvel at the sight of vibrant blooms and the deep purple hues of red buds against green rolling hills in spring. Stand in awe at sunset as the day ends in a fiery blaze of color, then watch the sun rise in the soft hues of dawn in summer.
Connect with family in a mountain home away from home in the Shenandoah Valley, where the scenery around your is more enticing than the screen in front of you. Unplug with family and make time to connect with campfire s'mores and late-night laughter, peaceful mornings on front-porch rockers, and lazy afternoons in the backyard with corn hole and horseshoes.
Book a romantic cabin retreat for a memorable date-night getaway or anniversary celebration that your partner will cherish for years to come. Say "I love you" beneath midnight skies, a glass of local wine, and a late-night dip in a back-porch hot tub. Spend the day celebrating your love in a secluded cabin hideaway surrounded by miles of solitude. Amp up the romance by arranging a couples massage in your cabin, or pre-arranging special surprises for your sweetheart, such as chocolates, flowers, champagne, or rose petals awaiting your arrival.
Reconnect with friends and extended family in a bunkhouse or cabins on a larger estate. Gather around backyard fire pits for conversation against a backdrop of the Blue Ridge and Massanutten mountains. Spend the day in the Great Outdoors catching up with loved ones before heading back to your individual rooms or cabins after dark. Make use of your cabin's kitchen by arranging a potluck-style buffet picnic and favorite family recipes — or sample tastes of the Valley by ordering takeout from one of our restaurants or eateries.
Dine indoors, on the go, or al fresco at a wide array of Page County restaurants. Choose from fast or casual, international, and eclectic cuisine. Savor local spirits with farm-to-keg craft beer, unique wines, and aged whiskey and bourbon from a vineyard, wineshop, brewery, or distillery — on site or with a bottle to go.
Between rest and relaxation, embark on a Valley adventure. Take in scenic views in any season in Shenandoah National Park. "Ride the sky" along Skyline Drive, a 105-mile National Scenic Byway that traverses through Shenandoah National Park and the Blue Ridge Mountains. See nature up close with a hike in the park along more than five hundred miles of trails that range from easy to strenuous.
Opt for another of the Valley's most loved adventures by exploring the underground wonders of Luray Caverns, or fifty-five miles of the Shenandoah River. Warm days make way for endless water adventures on canoe or kayak, or lazy afternoons floating the day away on the South Fork. There are also plenty of swimming and fishing opportunities for water lovers and avid anglers.
Choose from other outdoor adventures along mountain terrain and atop Valley views: venture off the beaten path on an ATV excursion; ride horseback through rolling foothills and winding creeks with a trail ride at a Page County ranch or stable; test your strength and strengthen your family's bond with a ropes course challenge; or feel the wind on your face as you glide above the forest's canopy on a zipline tour.
Fore a more leisurely adventure, head to a town park in Luray, Stanley, or Shenandoah for a picnic lunch, bike ride, or afternoon stroll. Or catch a live performance or feature film, tour a museum, or delve into the Valley's rich history.
Along the way, grab a bite or pint and search the shops for the perfect souvenir from your Shenandoah Valley stay.

See our new itinerary hub for more ideas for your great escape, whether it's a day-long road trip, an overnight escape, or a Valley vacation. The custom getaway guides are aimed at taking the planning off your plate so you can get more "play" — and relaxation — out of your stay.

Whether it's a rest-and-relaxation retreat or a high-adventure escape, there's something for everyone in Luray and Page County. Here, our Valley views and serenity make doing nothing feel like everything. But with adventure awaiting around every mountain road and river bend, there's always more to explore, see, and do when you're ready to take a break from fresh-air solitude.