Cool Breezes and Crunching Leaves - Making the Most of October in Luray-Page County
Cool breezes in the air and vibrant colors exploding throughout the Valley can only mean one thing; that fall has finally arrived. While summer fun has come to an end, October in Luray-Page County still offers plenty of gorgeous views, fun activities, and fun for the entire family.
Whether you're looking for a crisp breeze, the beautiful colors of fall, or a spooky good time during the month of October, add a trip to Luray-Page County to your list.
Enjoy Fall Colors in the Crisp Air
Wherever you look during the month of October, you'll see the trees and woods sporting cool yellows, vibrant oranges, and fiery reds. While you're in Luray-Page County this month, you would be missing out if you didn't take the opportunity to cruise along the Skyline Drive with your windows down. While you're winding your way down this 105-mile long scenic drive, you can stop and enjoy the cool air while you look over the Shenandoah Valley at any of their 70 overlooks.
One of the best places to watch the changing seasons is in the Shenandoah National Park. Throughout the park, you can hike any of their 516 miles of trails. During your hikes, you're sure to see bright colors, rippling creeks, views of the Valley that are unmatched, and even some local wildlife. When you're planning your trip to the Shenandoah National Park, you can even keep up with the progress of the season change with their Fall Color Reports. Here, you'll be able to know when peak leaf change will happen, making it easier to know when you should try to make your way there.
Or, if being on the water is more of your thing, a trip down the Shenandoah River is another unique way to see the change of seasons. The South Fork of the Shenandoah River flows right through Luray-Page County and is lined with magnificent tress that offer a neat way to see the colors that come with October. Shenandoah River Outfitters, Shenandoah River Adventures, and Downriver Canoe Company all offer canoeing, kayaking, fishing, and tubing on the River and are the perfect way to see the trees change with vibrant colors.
If you want somewhere more secluded to watch the leaf changes, there are local hiking options as well. A stroll along the nature trail at Lake Arrowhead not only offers a chance to enjoy the cool air and view of Luray's local lake, but you'll be able to see plenty of colors while enjoying a few moments of peace and quiet. If you have little ones, you can also head over to Ed Good Memorial Park, in the town of Stanley, which is home to a great playground and walking trail that boasts a beautiful view of Round Head Mountain, a part of the Blue Ridge Mountains. In the town of Shenandoah, you can enjoy a day at Big Gem Park. While you're there, your kids can enjoy swings, a walk down their trail, or even fishing in their pond.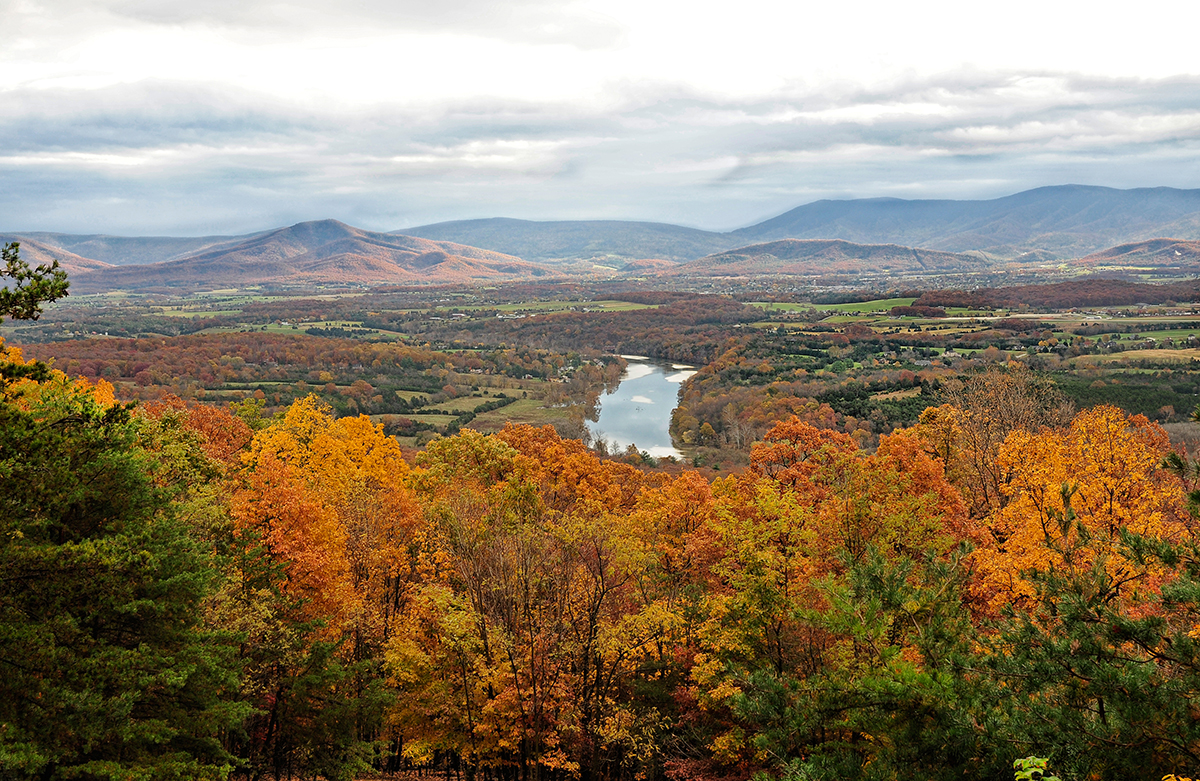 Photo: Fall Colors in the Valley, Lara Ellis
Unbe-Leaf-Able Fun for the Kids
Fall is the perfect time for kids' activities. From pumpkin picking, crafting, the chance to complete one of the Country's most popular mazes, and the chance for a day of laughs on the weekend, Luray-Page County is the perfect place for your little ones to have some October fun.
While spending the weekend with us, don't miss a chance to enjoy Fairview Fun Farm. Open every Saturday and Sunday from 10:00 AM-6:00 PM throughout October, families can enjoy a day of fun games, their massive slide known as the Tongue Biter, pumpkin picking in the pumpkin patch, and even some tasty food. You can also head up to Valley Star Farm for pumpkin pickin' fun. Valley Star Farm is open every weekend in October and is free to enjoy. While you're there, you can enjoy an afternoon of pumpkin picking, complete their fun Corn Maze, and even get some unique fall decorations to take home with you.
If you're looking for more of a laid-back place to enjoy fall fun with the kids, Studio 31.13 is located right on Main Street in Downtown Luray. When you stop in, you can create any of their crafting projects. Or, if you want something your kids can do in the evening after you've settled back into your cabin, you can even purchase the crafts to do at home. Whether you stop in to enjoy an afternoon of crafting or take your projects home with you, you can customize them however you want with whatever colors call to you.
For the animal lovers in the group, make sure to stop in for an afternoon at Luray Rescue Zoo. While exploring the zoo, you'll discover over 80 reptile exhibits, 20 outdoor exhibits with an array of animals, and even a fun petting zoo at the end. You and your little ones will get to learn about all the different animals they have, including their natural habitats, their diets, and other fun facts. When you visit the Luray Rescue Zoo, you're not just getting to learn about neat animals, but also supporting the care for these beautiful creatures. As a rescue zoo, all the animals that you'll discover were rescued and brought to their current location to live happy and healthy lives.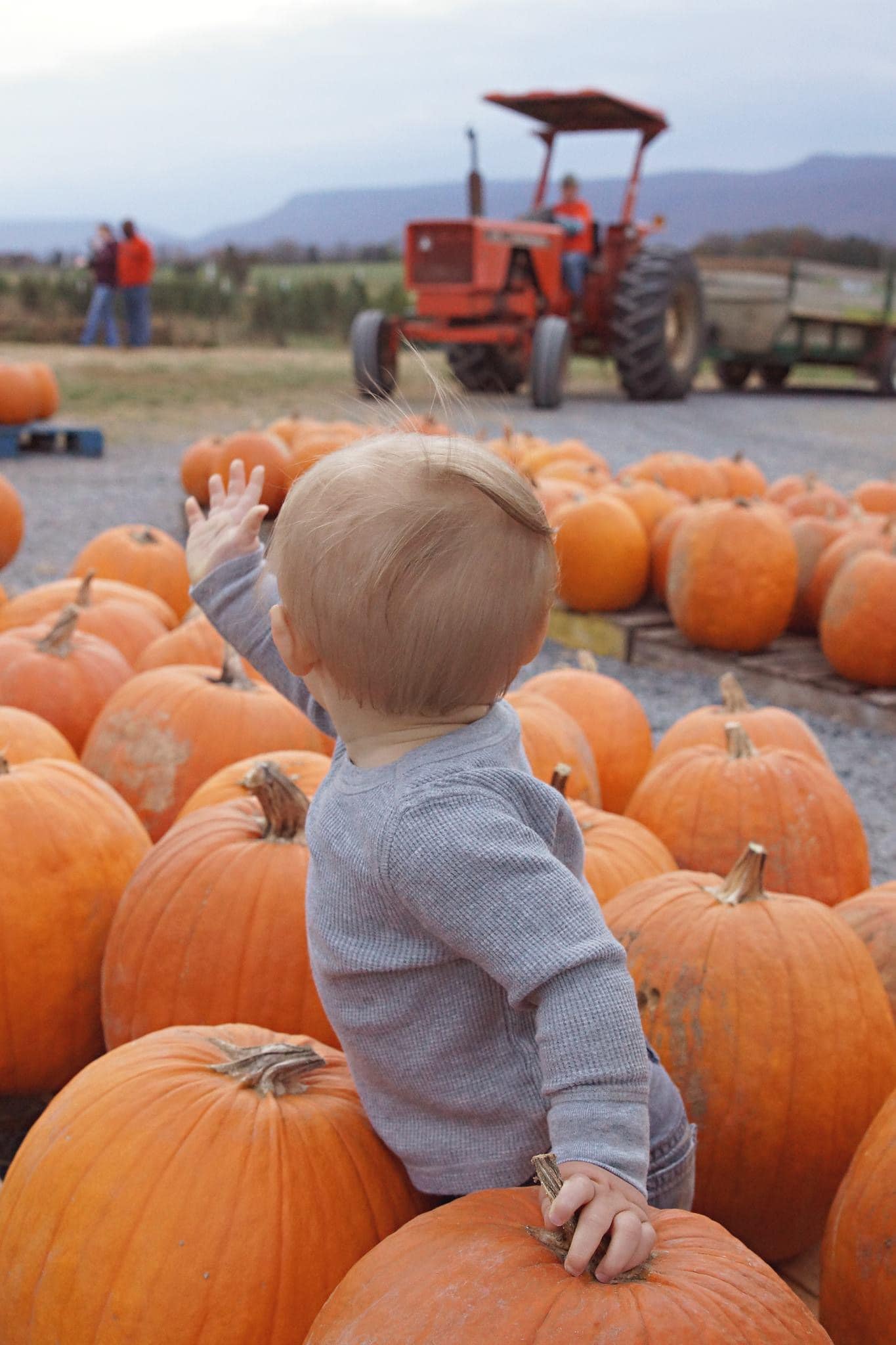 Photo: Kid enjoying pumpkin picking, Valley Star Farm
Pumpkin Spice and Everything Nice
October is the perfect time for a warm pumpkin spice latte or hot cup of tea. In Luray-Page County, you'll find a variety of locations to enjoy great food and drinks. If coffee or tea is your thing, Broad Porch Coffee is a must visit. Their laid-back vibe is the perfect setting to enjoy a tasty cold brew, hot coffee, scrumptious breads and pastries. While you're enjoying your goodies, you can sit inside in their lounge area, or outside on their deck and watch the Hawksbill Creek quietly rush by. If tea is more your thing, the Compass Tea Rooms is stocked with specialty teas from all over the world. You can choose from hot or cold teas, and even get to browse their fair-trade clothing and handmade jewelry.
For a quick bite to eat, there are plenty of sandwich shops, pizza places, and other hidden gems that you can enjoy. In downtown Luray, West Main Market has a delightful menu filled to the brim with unique deli sandwiches, soups, and salads. After you place your order, you can enjoy it while take in the October breeze and scenery of downtown at their outdoor picnic tables. October is also the perfect time for comfort foods like soup. At Main Street Bakery and Catering, chef Chuck makes fresh breads, soups, and desserts daily. Whether you want a warm chili, some bread to take back to your cabin, or a sweet treat, they have you covered. For a sweet treat, stop in and say hi to the ladies at Baby Moons. You'll find warm and fresh baked goods, quick sandwiches and soups, and even some tasty coffee.
If you're more of a pizza person, Il Vesuvio Italian Restaurant & Pizzeria offers traditional Italian dishes, perfect pizza options, and even tasty desserts. You can enjoy your meal inside their cozy dining room or on their outdoor patio. In the town of Shenandoah, you'll find Mamma Mia Italian Restaurant. A local staple in Shenandoah, their authentic Italian food made from family recipes gives a taste of Italy. If you have picky eaters with you, they also offer burgers, pizzas, and other menu options that will make anyone happy. Whether you're looking to dine indoors or enjoy a lunch in the cool air, they have what you're looking for.
For an October Date Night, make a reservation with Moonshadows Restaurant. In the heart of Downtown Luray, you'll be able to enjoy their Fall Menu, with unique and delicious options. Order a specialty mimosa or glass of wine, enjoy a meal crafted by their classically trained chef, and have a night with your special someone. For wine lovers, you can over to The Valley Cork. With wine from around the world, beers, ciders, and food that will bring a smile to your face, they offer the perfect backdrop for a date night with your partner.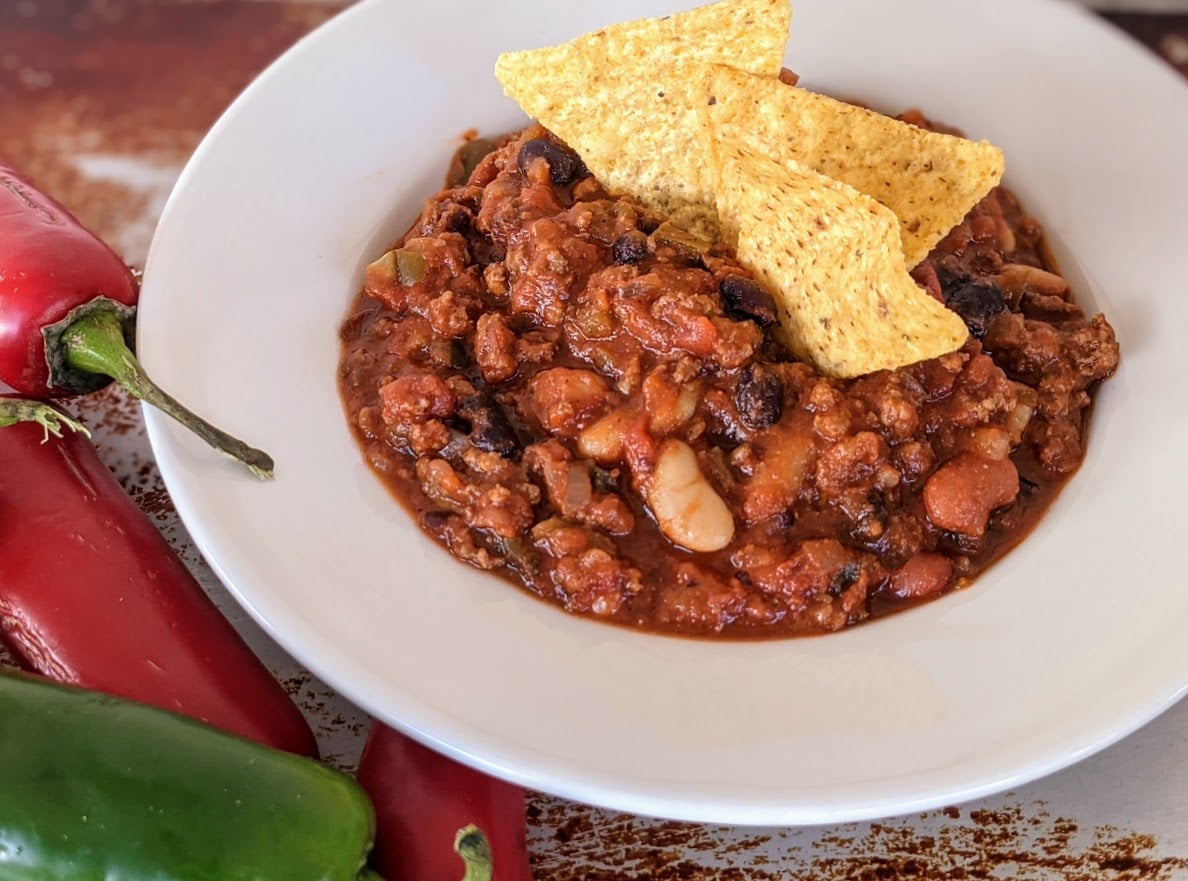 Photo: Chili, Main Street Bakery
You're the Apple of My Eye
There's something romantic about an afternoon or evening with a cool October breeze where you can cuddle up next to your partner. During your stay in Luray-Page County, you'll have plenty of opportunities for a date night. On the weekend, put on a warm sweater, grab a blanket, and head out to Wisteria Farm and Vineyard, where you can enjoy wine made from grapes on the property, while you sit around a warm fire. Castle Vineyard also offers a spacious tasting room or outdoor area and has wine from a vineyard just over the mountain. Or, if you're looking for something indoors, the Hawksbill Brewing Company is the perfect place to grab a beer and enjoy the company of your special someone.
For a more private and romantic date, get in touch with Heartfelt Events. A local event planner in Luray, they offer their adorable backyard for private dinners, and they'll help with catering your romantic evening with food from. When you book with them, you'll get to enjoy quiet time with your partner, a chance to snuggle up with your special someone, and watch the stars while you enjoy dinner and wine.
If you and your partner are more into being active on your dates, grab a quick sandwich or to-go order from a local restaurant, and head up to the Shenandoah National Park. While you're hiking through the forest with your partner, you can enjoy time together, the quietness of nature, and enjoy a magnificent sunset. It's the perfect view to share with the person you love the most.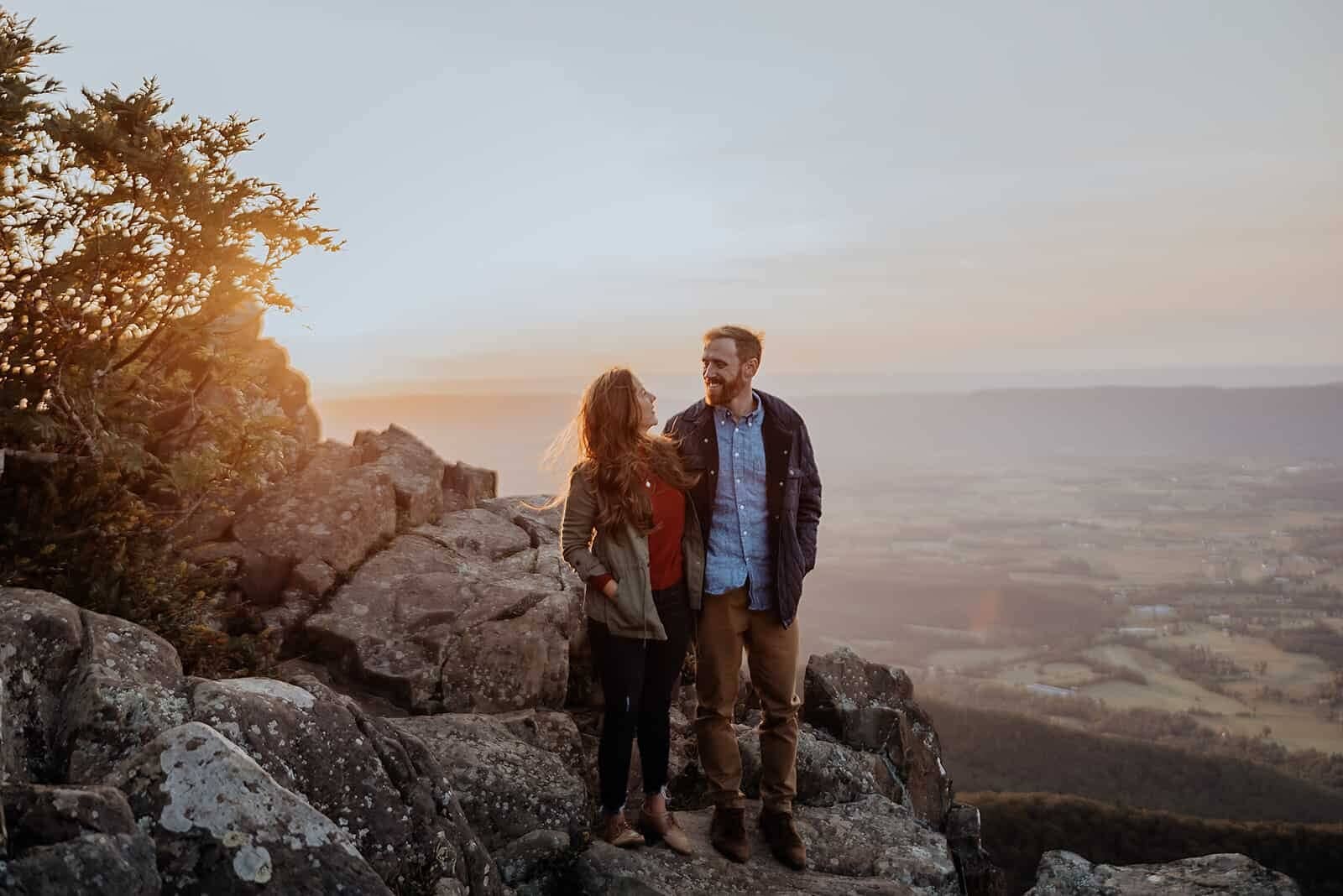 Photo: Couple on SNP, Shenandoah National Park
All Treats, No Tricks –Fall Fun in Luray-Page County
Even though summer is over, there are still plenty of chances to have fun at local festivals and events through the month of October in Luray-Page County. Below you can find a list of family friendly events throughout the month of October:
Town of Stanley Fall Festival - Saturday, October 2nd, 12:00-6:00 PM
This fun festival is being held at the Hawksbill Recreation Park, 205 Pool Drive, Stanley, and will feature games and activities for the kids, a craft and vendor show, tasty food options, and will end with a free showing of Casper the Friendly ghost, hosted by the Page Alliance for Community Action.
52nd Annual Page County Heritage Festival - Saturday, October 9th & Sunday, October 10th, 10:00 AM-5:00 PM
Held at the Page County Fairgrounds, 15 Fair Lane Drive, they feature local crafts and vendors. In addition, you'll get to enjoy demonstrations, apple butter boiling, blacksmiths, pottery, and other family fun.
Trick-or-Treating in Downtown Luray - Saturday, October 30th, 4:00-7:00 PM
Get the little ones dressed up and head to the shops and businesses in downtown Luray for a fun trick-or-treating experience. The businesses throughout the downtown area will be handing out candy to all the ghosts and goblins that come in. After you're done trick-or-treating, head down to Ruffner's Plaza for the annual Halloween Costume Contest, where the best costumes will win some pretty spooky prizes.
Halloween Costume Parade - Sunday, October 31st, 4:30-6:00 PM
Bring your bikes, wagons, and strollers for the parade at Shenandoah River Park, 315 Morrison Road, Shenandoah. After the parade, there will be free food, drinks, and candy while supplies last. There will also be a Fall scene for pictures. This event is brought to you by the Newport-Grove Hill Ruritan Club and the Town of Shenandoah. The Town will be observing trick-or-treating on Sunday, October 31 with a 10:00 p.m. curfew.
If haunted houses are your speed for Halloween fun, make sure to make a trip to Darkwood Manor. Located in downtown Luray, Darkwood is filled with scares, unique themes and props, and a cast that will give you a hauntingly good time. You can enjoy the scares of Darkwood Manor on Fridays and Saturdays from 7:00-11:00 PM and on Sundays from 7:00-10:00 PM.
Whether you want to enjoy a cool breeze whooshing through the forest, a day of retail therapy and tasty food in local shops and restaurants, to have fun with the whole family, or even a romantic evening with your partner, October in Luray-Page County has everything you're looking for.
Photo: Page County Heritage Festival