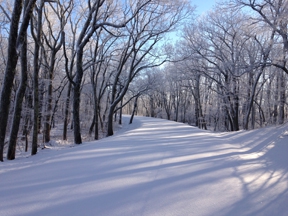 Chill Out in the Shenandoah Valley
It's a time-honored American tradition to go home for the holidays, but don't underestimate the lure and excitement of leaving home for the holidays. As winter returns to the Shenandoah Valley and the surrounding mountains, and with the possibility of snow in the air, shops, restaurants, cabins, bed & breakfasts and hotels, motels and inns merrily welcome guests during the holiday season. Walking the festively decorated main streets of the charming, historic towns of Luray, Shenandoah and Stanley while window shopping, and stopping for a warm bite to eat or a sip of hot cocoa is sure to put even "The Grinch" in the holiday spirit. The Luray-Page County Chamber of Commerce & Visitor Center's December calendar is packed with events that will without a doubt make this holiday season, "The Most Wonderful Time of the Year."
Winter brings a stark beauty to the Shenandoah Valley. The peace and serenity wished for at this time of year can be found tucked away in a clearing alongside the Shenandoah River, on a mountain top in Shenandoah National Park, in a Blue Ridge hollow, under the trees in the George Washington National Forest, or wherever exploration and adventure leads. Leafless trees and cooler temperatures improve visibility, making the valley and mountain views more spectacular than ever. Sound may be cushioned by a dusting of snow, and for a brief time, an escape can be found from the frenzy of the four weeks between Thanksgiving and Christmas.
The solitude of winter in Shenandoah National Park affords visitors an increased chance of seeing woodland animals such as white-tailed deer, squirrels and turkeys, as they forage for food. Snow makes it easier to spot tracks from rabbits, foxes and bobcats. Hiking in the solitude of winter can be restorative for the soul. There's no better medicine for a hectic lifestyle than being alone with nature. The winter season is the optimal time to breathe in fresh crisp air and surround yourself with wide open spaces and scenic views as far as the eye can see. While many services in SNP close during winter, the park is always open. Lodging, food services, campgrounds and most facilities are closed from late November through March, with the exception of Byrd Visitor Center, at mile marker 51, which remains open weekends. Fuel is available through self-pay at Big Meadows but it is best to enter the park with a full tank of gas. Portions of Skyline Drive, the only public road in the park, are periodically closed during inclement weather. Visitors may still enter the park on foot for hiking or backcountry camping even when Skyline Drive is closed. The most current Skyline Drive status can be obtained by calling a recorded information line at (540)999-3500 or visiting https://www.nps.gov/shen/planyourvisit/alerts.htm.
December normally kicks off the winter sports season in the valley. At Massanutten Resort, skiing, snowboarding and tubing are typically available from mid-December through mid-March. Although the resort makes its own snow, sustained periods with temperatures below 32° are required for optimum snowmaking. This year's abnormally low temperatures have allowed the resort to get a jump start on snow making and to kick off the season before Thanksgiving. For those willing to embrace the cold chill, instead of staying tucked away indoors, winter provides a savory flavor that will satiate your appetite for adventure. Visitors preferring an indoor experience will enjoy the cozy atmosphere at one of our vineyards, distilleries, or our local brewery . Folks looking for some friendly competition will enjoy the challenge and excitement of racing against the clock with family and friends, to solve a mystery at Escape 211 , in the Town of Luray, or achieving the highest score bowling a game or two at T-Bowl Lanes, in the Town of Shenandoah. Guests looking to "hibernate" in the ultimate relaxing experience will enjoy grabbing a book or some earbuds, and heading over to the fireplace or hot tub of their cabin rental or bed & breakfast and let the world drift away.
As families travel near and far to see loved ones for Christmas, most are too focused on gift giving and catching up, that they forget to make plans to stay in touch after the holiday season. Christmas gatherings and festivities provide the perfect outlet to gather together and discuss warmer musings of potential vacation plans, where everyone can get together, relax, have fun, and recover those lost moments by creating new memories, vacationing in the Shenandoah Valley. The best time to plan for spring and summer is during the winter. Many people have a hard time planning because they wait until the last moment. Rushing creates a stressful atmosphere when trying to plan a vacation. By planning over Christmas, not only will you find the best travel deals when you plan early, you'll be able to plan better, budget better and ultimately have something to look forward to as you battle through the cold snowy months of the new year.
The Shenandoah Valley is ideal for outdoor lovers as well as homebodies, craft beer drinkers as well as wine connoisseurs, adventure seekers and risk takers. Those seeking an amazing experience will love the breathtakingly beautiful mountains. Every mountain jutting out into the sky represents a challenge and something to be conquered. The mountains conjure up images of smoky, misty forests, rocks, earth and other elements that are good for the soul. Vacationers can visit breweries, vineyards, distilleries and restaurants while having the option of recreational activities like hiking, canoeing, kayaking, tubing, swimming, horseback riding, zip lining, ATV riding, golfing and visiting Luray Caverns or Shenandoah Caverns. Visitors looking for an authentic experience that is suitable for all ages will find all their vacation needs fulfilled in Luray-Page County, in the Shenandoah Valley. There is no better escape, where adventure waits around every corner. No matter where you spend your holiday season, it's always a good time to plan your next adventure in the Shenandoah Valley!