A Guide to Spending a Picture-Perfect November in Luray-Page County
The tale end of fall brings plenty of gorgeous landscapes, activities, and picture-perfect opportunities in Luray-Page County. Whether you're looking for an escape from the real world for a weekend, or you want to take a fall vacation for Thanksgiving, you can find whatever you're looking for when you spend November with us.
Landscapes – The Perfect Backdrop
During the month of November, no matter where you look, the backdrop is stunning. The last leaves clinging to the trees can be spotted from any of the 75 overlooks that lie along the Skyline Drive, which runs through the Shenandoah National Park. When cruising down this 105-mile-long drive, you'll have plenty of chances to enjoy a chilly hike on any of the 141 trails in the park. When you reach the end of your hikes or stop along the Drive, you'll get a chance to see what November in the Shenandoah Valley truly looks like.
If hiking isn't your cup of tea, try horseback riding. As you trot down the well-traveled trails with Jordan Hollow Stables, Fort Valley Ranch, or River's Bend Ranch, you'll get to see the last changes that come with the end of fall. The November chill is the perfect weather to grab a sweater and enjoy a day with these friendly horses and guides.
You don't have to be in the mountains or on horseback to enjoy the November temperatures and beauty. In the Town of Luray, take a stroll down the Luray Hawksbill Greenway. This 4-mile walking trail runs parallel to the Hawksbill Creek, where you'll find plenty of wildlife and leaves making their way down the rushing creek. At Lake Arrowhead, you can enjoy a slow walk down their nature trail, which will take you around the lake. With the chance of seeing beavers, listening to the water ripple along, and get some time outdoors.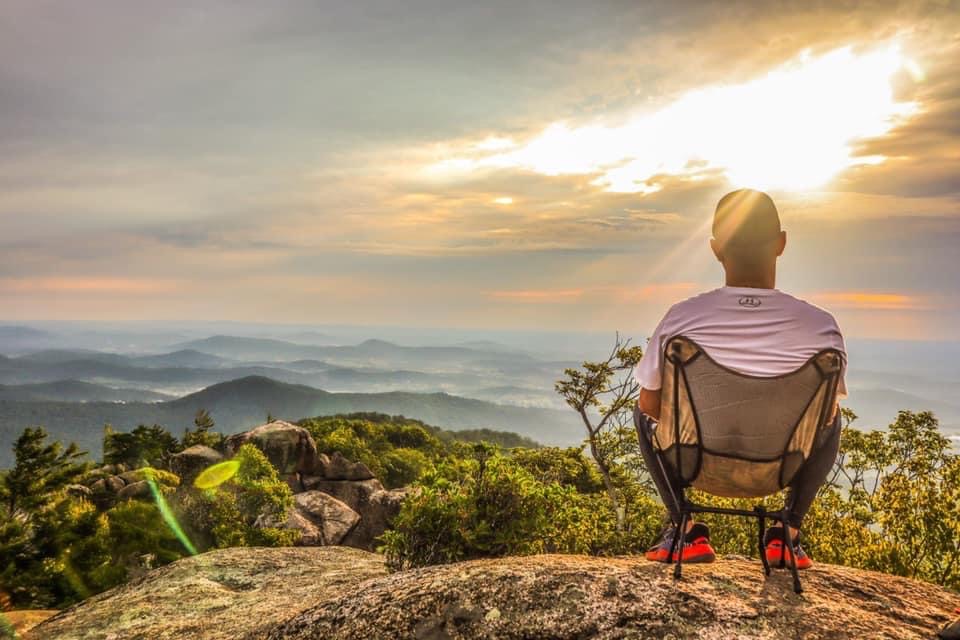 Snapshots – Family Memories
A trip to Luray-Page County is the perfect time to spend quality time with your family. With plenty of excuses to put the phone down and enjoy time together, you might just find a picturesque family vacation.
For those with little ones, there are plenty of parks throughout our three towns where they can run their energy out. In Stanley, head to Ed Good Memorial Park. With fun playground equipment, a skate park for the older kids, and a walking trail for the adults to enjoy, the whole family can have fun while you're there. Head down to Shenandoah for an afternoon at WigWam Village Playground. Whether your kids want to enjoy time on the swings and slides or you they want to get some work in on the tennis court, you're sure to have a grand time. In Luray, you can enjoy time at Inn Lawn Park. Just outside of downtown, this cute park has a fun playground set up, beautiful trees, and a gazebo that you can use to enjoy a picnic lunch. While in Luray, you can also visit Ralph Dean Recreation Park. Their picnic shelters, playground equipment, and walking trail make the perfect place to spend an afternoon as a family.
November has a certain chill to it. Not quite winter, but still the end of fall brings a coolness that can drive people inside. Even though it may be too chilly for outdoor activities, you can fill your days and evenings with plenty of indoor activities, too. While the evenings may shorter, it's still the perfect time to head out and catch a movie. At Page Theater, in downtown Luray, you can catch showings of today's newest movies. If crafting is more your speed, take an afternoon and head to Studio 31.13, where you and the family can enjoy a few hours of completing fun crafts. For the explorers in your group, a trip to Luray Caverns, the Car and Carriage Museum, and the Shenandoah Heritage Village are the perfect way to spend the day. You'll get to discover the beauty of what the Earth can do and learn some neat history, while you're at it. If you enjoy a challenge, book a time to make your way through one of the rooms at Escape 211 and see if you have what it takes to break free.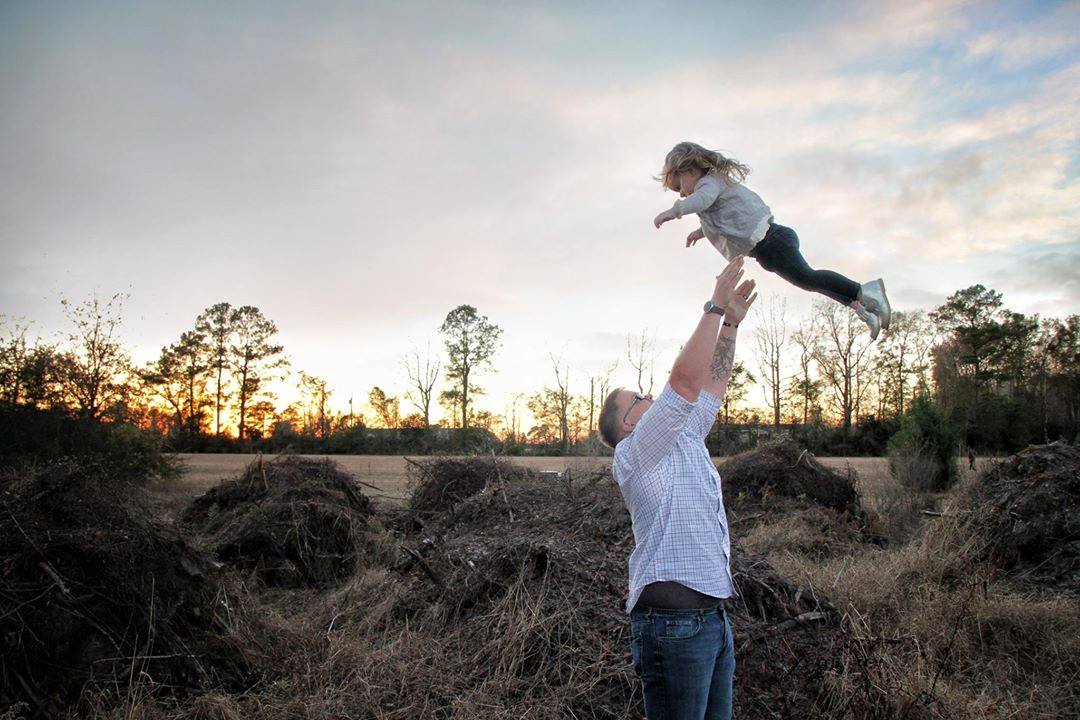 Portraits – Perfect Photo-Ops for Couples
The cold winds of November in Luray-Page County are the perfect excuse for a romantic getaway in the Cabin Capital of Virginia. With plenty of bed and breakfasts, cabins and country homes, and even hotels, motels, and inns, you'll be able to enjoy space for just you and your special someone. Cuddle up under the sheets while you enjoy TV, snuggle up next o each other while you enjoy a fire under the stars, or just enjoy some time getting out and doing something different.
When you and your partner are getting ready to head out for the day, pack up a picnic lunch and head down to the Hawksbill Greenway in Luray or down to Big Gem Park in Shenandoah. Both places offer a quiet spot for you to enjoy each other's company and a quick bite to eat. Or, if you want a fancy dinner date, you can book a table at Moonshadows, where you'll get to enjoy a delicious upper-class meal for a great price. After you've enjoyed a classy dinner, head over to The Valley Cork for a few glasses of wine and dessert.
Luray-Page County in November is also the perfect place for engagement or couples' photos. Take a hike through the Shenandoah National Park, book a session at venues like Massanutten Creek or somewhere like Birdsong Pleasure Garden, or take an afternoon drive down to Lake Arrowhead. No matter where you choose, you'll find the perfect backdrop for to highlight the love you share.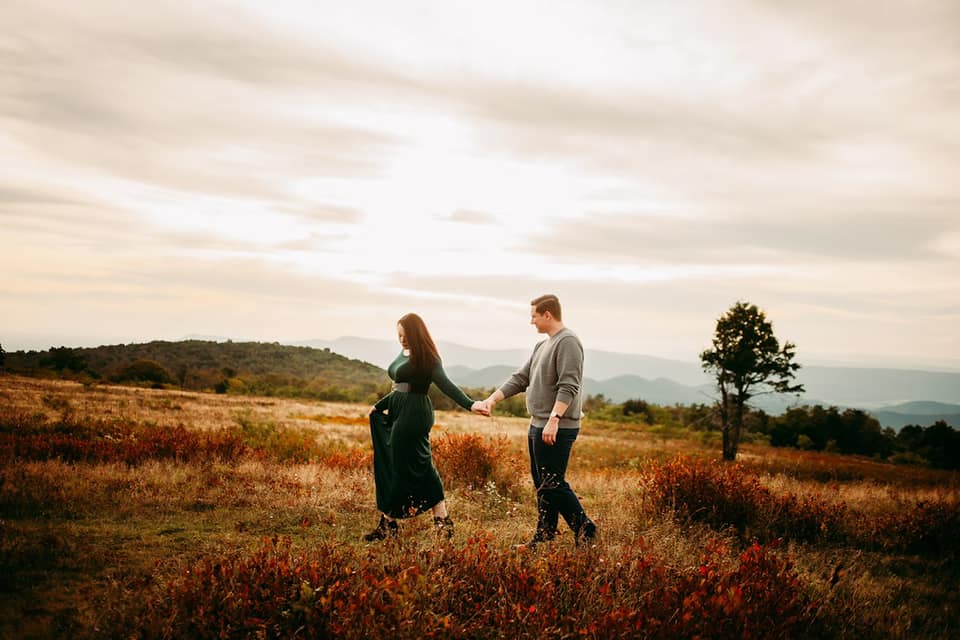 Photo: Peaks+Waves Photography
In-Style – Picture-Perfect Shops
Whether you want an Instagram worthy outfit, or something from a cute, picturesque local shop, there's plenty of shopping Luray-Page County during November.
If finding new style is your shopping pleasure, don't miss out on Henhouse Shoppe. Downtown Luray's newest women's boutique, they offer stylish, in-season clothes that go all the way to a size 3x. No matter the size, this is a perfect place to stop in and pick up some new threads. You can also head over to Virginia Gift Shop. With a selection of clothing, bags, jewelry, and much more, you can complete your entire look when you visit them.
For decorations and the perfect gifts, Shenandoah General Store, in Shenandoah, has you covered. With a wide array of Virginia-made products, country farm-house decorations, and more, they offer something for everyone. For those who want locally made foods, fresh fall decorations, and more, pay a visit to Massanutten Country Corner. They offer lots of seasonal plants, decorations that are perfect for any home, and even stuff for the little ones.
Photo: Virginia Gift Shop
Eat With Your Eyes – Food that Looks as Good as it Tastes
A meal that looks as good as it tastes is the perfect combination. At restaurants throughout Luray-Page County, you'll find plenty of restaurants that have dishes that are both visually beautiful and taste amazing.
For the breakfast lovers, make your way down highway 340 to the town of Shenandoah and stop at Rudy's Diner. This country diner offers fresh, made-to-order food that will make even non-breakfast lovers happy. If coffee and pastries are more you taste, Broad Porch Coffee, in downtown Luray, has a variety of fresh coffee and tea drinks, as well as freshly baked pastries and other breakfast options. Both places offer breakfasts that will make your camera roll and bellies happy.
It's not just breakfast that makes for great pictures in Luray-Page County, lunch and dinner spots will make you the envy of your Instagram following, as well. For lunch, stop in and order a sandwich, salad, or soup from West Main Market & Deli. They offer fresh deli sandwiches, as well as other light fare. When dinner rolls around, take a nice drive down to Hank's Grille. The friendly staff and talented cooks have a menu filled with scrumptious barbecue options, burgers, chicken, and more.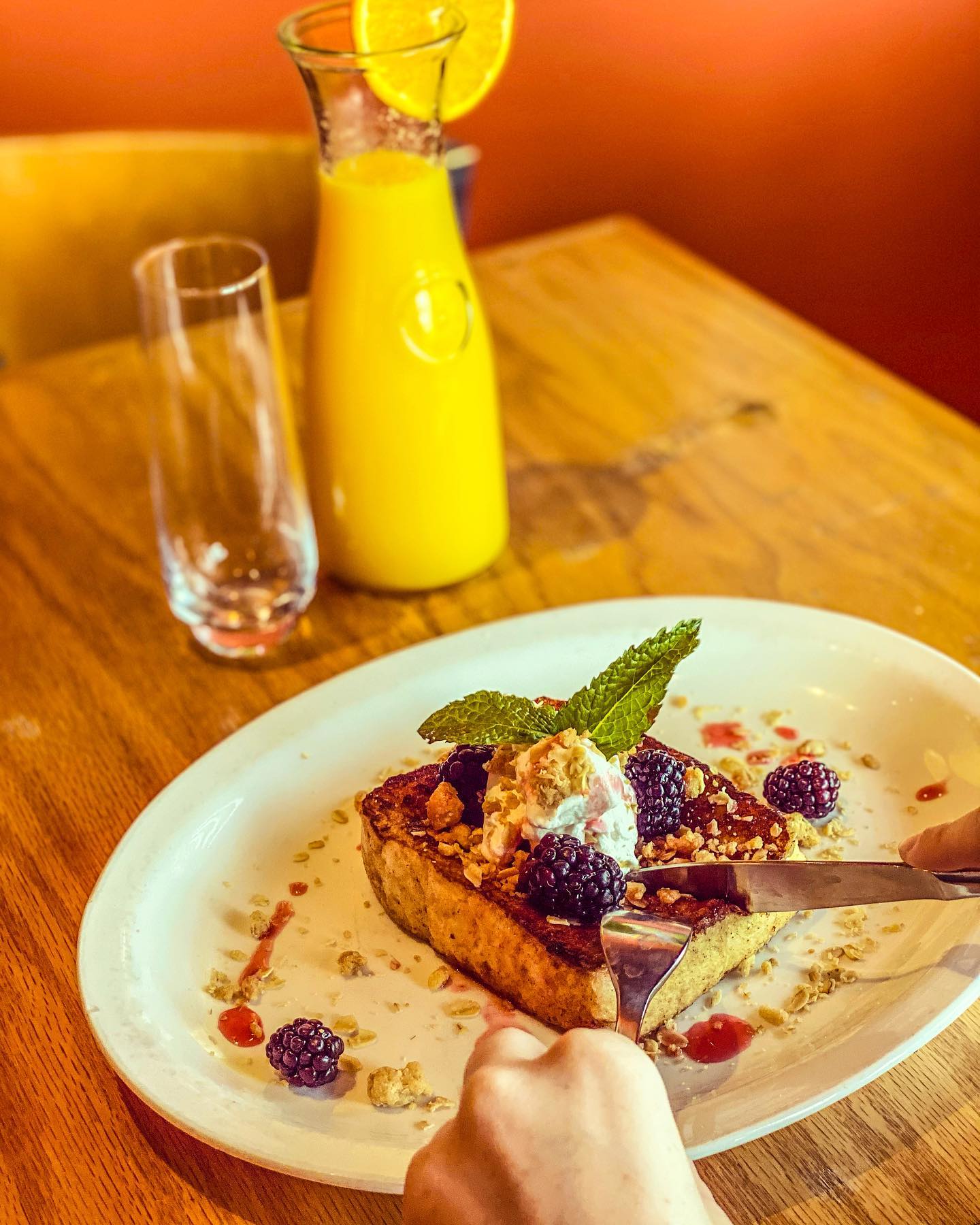 Photo: Hank's Grille & Catering
Thanksgiving in Luray-Page County
November is the season of being thankful. If you're spending your Thanksgiving in Luray-Page County, our local shops and restaurants can help you celebrate this day of thanks with your family.
For those who want to make your Thanksgiving meal at home, make sure to checkout local options for your supplies. Burner's Beef is a local beef farm that offers any cut of beef you could want. For fresh produce and sides, Massanutten Country Corner has lots of products from local vendors and bakers. You'll also be able these products at Willow Grove Market (also make sure to check what they have in stock if seafood is no the menu), Blue Ridge Convenience, and Heard's Cedar Hill Farm Market.
If you aren't looking to cook your big dinner this year, some of our local restaurants are offering special dinners for Thanksgiving.
A local favorite, Brookside Restaurant is offering up a Thanksgiving Buffet from 11:00 am-7:00 pm on Thanksgiving Day. They'll have classic menu offerings, as well as fried chicken, ham, shrimp, and more. If you would rather grab and go, they also will be offer their Buffet in a Bag.
Typically, a delicious barbecue spot, they're talented chefs are offering a Thanksgiving Family Style Takeaway Dinner.
This upscale restaurant will be offering a special menu that's filled with a unique twist on classic favorites. They will also be offering vegan and vegetarian options for, thirst quenching beverage choices, and a great beer and wine list. Reservations are required
One of Luray's newest restaurants is offering a traditional turkey dinner, as well as soup and salad. Doors will open at 3:00 pm, and dinner will be served at 4:00 pm. If you want seconds or take some back for round two of Thanksgiving dinner, they will also have a table for leftovers. Seating is limited, so purchase your tickets early by giving them a call.
Page Free Clinic Thanksgiving Day Dinner.
If you want to enjoy a traditional Thanksgiving meal and helping a local non-profit at the same time is your cup of tea, purchase tickets for the Thanksgiving Day Dinner being hosted at Faithbrooke Barn & Vineyard. Dinner will be available for pickup or dine in. Tickets are available for $40 per adult, children 6-12 are $20.00, and children 5 & under are free. All proceeds from the dinner go back to Page Free Clinic.
For a truly tradition Thanksgiving dinner, make a reservation with the Mimslyn. They are offering a special Thanksgiving dinner from 11:00 am-3:00 pm. With Turkey and all the trimmings, as well as other delicious options for dinner and dessert, they will be offering something that everyone in your family will enjoy. When you purchase your ticket, you can also book one of their room packages.